Dr. Jacob Lewis
How It All Began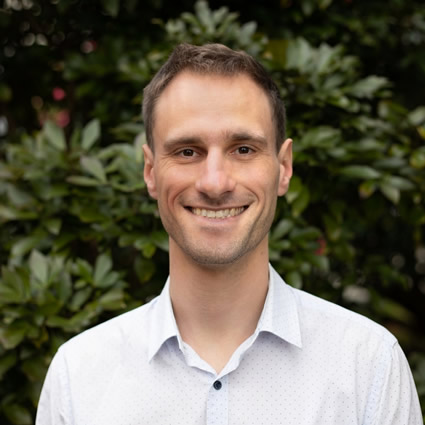 Having done all three Sciences all the way through High School but with no clear idea of where I was heading, I decided to embark on a Bachelor of Science and just figure it out along the way.
As the years passed, I methodically worked my way through a wide range of interesting subjects. A Bachelor of Science turned into a Bachelor of Arts, then morphed into a Bachelor of Commerce, before finally transmogrifying back into a Bachelor of Science. And along the way I came to be an expert in knowing exactly what it was that I didn't want to do, but not at all certain as to where exactly my future lay.
Then one day, a friend invited me to attend a Careers Fair, where I bumped into the recruitment officer for the NZ College of Chiropractic and had one of those rare life-changing moments of inspiration! Learning about the human body, helping other people thrive, having a sense of purpose and fulfillment each day I'd go to work…it sounded amazing! I went home and immediately told my parents I was moving to Auckland to study Chiropractic.
Chiropractic Education
The NZ College of Chiropractic was a tough but immensely rewarding experience. Years of continuous study and rigorous exams. But studying in an environment of excellence, surrounded by like-minded committed students and some of the finest Chiropractors in New Zealand kept motivation high. I also began to experience first hand the magic of a Chiropractic adjustment, not only in my own life with the aches and pains I had but also in how other people's lives were transformed. I grew to love the potential for good Chiropractic has in people's lives.
After completing my studies I moved to Wellington, where I worked for two years as part of a thriving practice and was mentored by a well-respected Chiropractor. I worked with young and old, pregnant mums and new-born babies, unfit dads and international athletes. During that time I also completed further courses in Inspiral – which focuses on pregnancy, babies and children – and a technique called Sacro-Occipital Technique (SOT) – which balances the spine from bottom to top, allowing healthy cerebrospinal fluid (CSF) flow around the body. I learned a huge amount from this time and developed enormously both in mental perspective and technical ability.
Exceptional community service
Now that I'm here at Total Health Chiropractic I'm thrilled to have a further opportunity to serve the community through Chiropractic care. I'd like to share my passion for health and wellness and help you live at your best through balancing your nerve, muscle, joint, spine and brain function. My goal is to provide an exceptional Chiropractic service focusing on holistic health and optimum function. Give us a call to make a booking or email me using the link above – I'd love to hear from you!
Have A Question? Click Here To Email Me Directly Today

---
Dr. Jacob Lewis, Wellington | Total Health Chiropractic