Your First Visit to Our Wellington Practice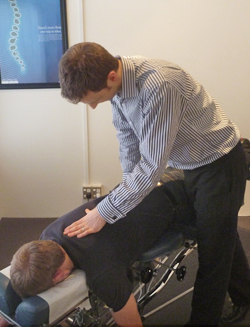 On your first visit you'll find plenty of convenient free street parking right near the entrance. You will need to allow approximately half an hour and we would be thankful for you bringing any recent or past x-rays or scans as they will provide us with valuable clinical information.
This visit centres around discussing your health goals and ascertaining if chiropractic is likely to help you. From here, a thorough examination will help identify the cause of your problem. We explain everything to you throughout the process and patients appreciate being involved and the majority of people are impressed at how thorough their examination is.
Your examination includes:
Chiropractic assessment – these tests can include postural evaluations, static and dynamic palpation and other procedures to reveal neurological problems.
Body balance assessment
Orthopedic assessment to evaluate the function of your skeletal system
Neurological assessment to establish the integrity of the nerves within your spine
Cranial system evaluation
Examination of key indicators related to your body's systemic function
Referral for X-rays where clinically indicated
On your Second Visit we will review all of the exam findings from today's initial visit.
---
New Patient Center at Total Health Chiropractic | Chiropractor Wellington