Dr. David Comely
At the age of one, I fell three metres and fractured my skull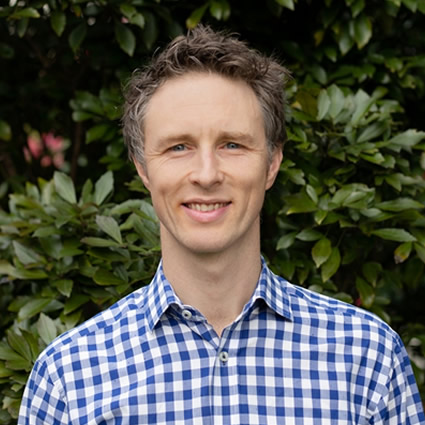 Despite this trauma, chiropractic and the body's incredible healing abilities allowed me to lead a very active childhood. I went on to represent my region in basketball throughout my teenage years and I know chiropractic helped me be the best athlete I could be and provided me with a performance edge.
I grew up enjoying the benefits of regular chiropractic check-ups and along with the amazing benefits personally, I observed the life enhancing benefits of chiropractic care for my family's health. This combined with a keen desire to help people, inspired me to pursue a career in chiropractic.
Chiropractic and Nutrition Education
I studied for five years at the New Zealand College of Chiropractic, after which I began additional study on cranial faults, extremity correction, specialised spinal and muscle techniques, nutritional deficiencies and stress management, culminating in my international certification in Applied Kinesiology.
Since graduating, I have spent time with Dr Natasha Campbell-McBride in Australia, completing the Gut and Psychology/Physiology Syndrome Practitioner Certification programme along with completing my Primary qualifications through the Australian College of Nutritional and Environmental Medicine (ACNEM). On top of this I enjoy regularly attending various nutrition courses and seminars.
I spent the first two and a half years of my career in Auckland mentored by two well respected chiropractors who helped me a great deal in refining my technical skills. My wife and I decided to make the move to Wellington, which is when Total Health Chiropractic was formed.
My Passion is for Helping People
My passion is for helping people get the most out of life through enhancing their awareness around nutrition, stress, nerve and muscle function, the spine and how these aspects make up our greater health picture. Through chiropractic care I look to influence the nervous system by way of correcting spine and extremity misalignments that irritate and alter the nervous system and it's function (subluxations). Influencing the nervous system to stimulate the muscles correctly, along with specific muscle techniques, helps to stabilise and balance the body.
Your nutrition influences your body's chemistry, which has a direct and indirect influence on your nervous system, resulting in changes in your general health along with the muscle changes that hinder your progress in chiropractic. I will look at your chemistry on a functional level, through consultation and the assessment of reflex points and how the brain and body react to the chemical stimulation of chewing certain nutrients. Stress can influence our overall function significantly, however, optimal nerve function and nutrition will help our bodies to better adapt to stress.
Outstanding Service
As a team here at Total Health Chiropractic, our goal is to provide outstanding service, with a high level of precision and an emphasis on wellness and optimum function. I consider myself an excellent listener and hope I get the opportunity to meet you and discuss your specific health challenges and life goals. Give our office a call or email me using the link above – we'd love to hear from you!
Have A Question? Click Here To Email Me Directly Today

---
Dr. David Comely | Total Health Chiropractic